Strategicon Game Auction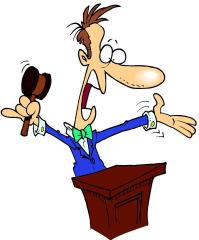 Begins Monday, 11 am in the Seminar Room, (2nd floor)
More than 300 items are sold each convention. Don't miss your chance to find incredible values at the Southern California Gaming Experience.
We no longer have a collectible card game auction on Saturday. All CCG auctions have been integrated into the regular auction.
Buyer tabs (similar to bar tabs) are available for a $50 nonrefundable deposit against purchases. This gives you the convenience of paying for your bids after the auction ends, instead of having to pay immediately for each lot that you win.
Auction lot slips are available to sellers for $1 per lot. Auction lot slips are sold at the convention registration desk, from Saturday at 9 am until Monday at 10 am. The auction charges a 10% commission per lot ($50 maximum), but the lot fee is counted towards the commission.
---
If you wish to sell anything at the convention, you must purchase either an exhibitor table or a flea market table or sell your items in the Game Auction. All unauthorized sellers will be removed from the convention without a refund.
Please consult the Program Guide for detailed convention rules.