Hotel Parking & Transportation
Page last updated August 28, 2012.
The Sheraton Gateway uses the All Star Parking (#4) adjacent to it in lieu of a structure of its own.
However, the most convenient parking for the convention is to use Easy Park (#5) as the main entrance to the con is on Avon Drive
Alternative Parking
Sheraton Gateway: 6101 W. Century Blvd
Map #
Lot Name
Gate Rate
Special Rate
Address
1
Park 'N Fly
$15.95/day
$13.95/day online
6351 W. Century Blvd
2
Quik Park
$13.95/day
$9.95/day online
$12.65 AAA Discount
$15 online coupon
6151 W. Century Blvd
3
Sunrise
$10.91 to $15.99/day
based on vehicle type
6155 W. 98th Street
4
All Star Parking
$13.95/day
6141 W. Century Blvd
5
Easy Park
$10.95/day
1 free day coupon
with 2 day stay
6101 W. 98th Street
6
Valet Air Park
$12.95/day
9600 S. Sepulveda Blvd
7
LAX Lot C
$12.00/day
Tax included
$4/hr per hour,
max of $12/day
96th St. & Sepulveda Blvd
Prices subject to change without notice.
Solid colored dots denote entrances.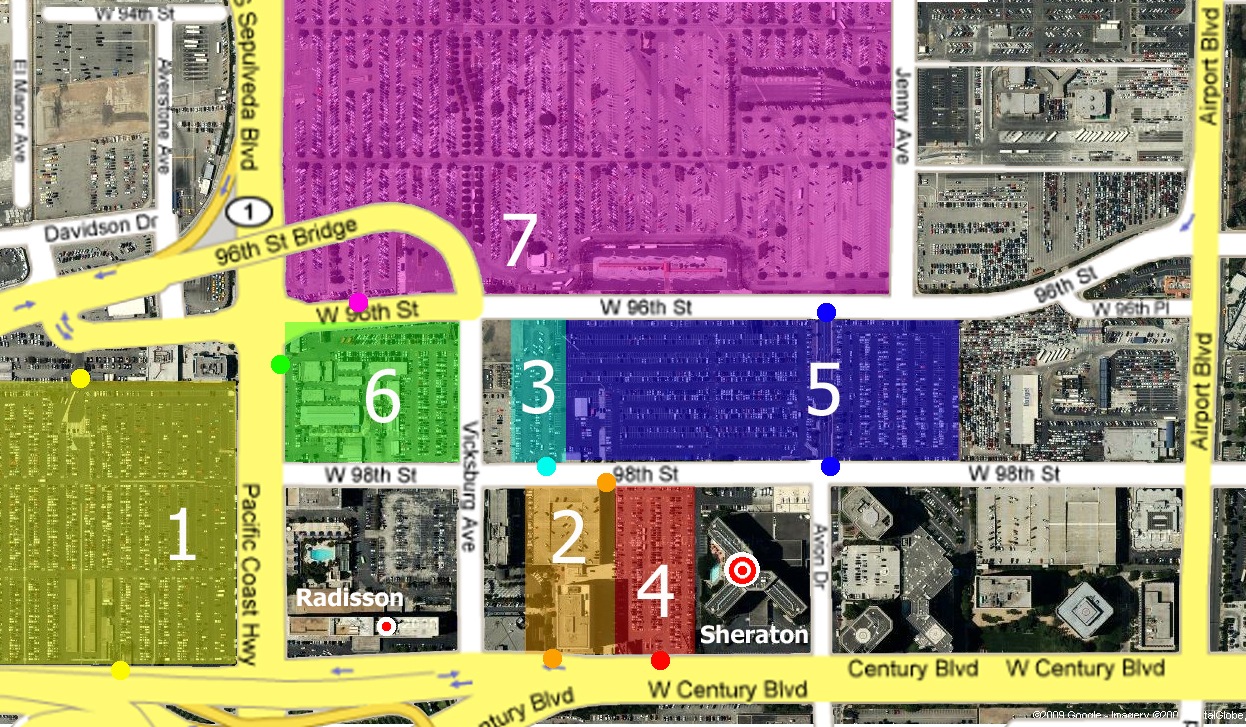 Alternative Transport
For those willing to take a bus, there are some options.
Culver City Bus Route #6 ($1.00 each way)
Santa Monica Bus Route #3 ($1.00 each way)
Metro Zone Fares $0.55 - $2.45 each way depending on where you're coming from.